Gift Certificates
Season Schedule
Our boats are fast and comfortable. We carefully plan out each trip according to weather and our target species, while our staff works hard to keep our passengers satisfied and safe throughout the trip. The fleet features state of the art electronics to help put us on the fish quickly and efficiently. Join us this season at Captain's Fishing Parties!
Check our
Online Booking Calendar
for available trips, prices, and times! Reservations benefit both parties, and are highly recommended, especially to those traveling long distances.
---
ALL-DAY FISHING
Dock Departure 7:30AM | Dock Arrival 4:00PM
Book Now

Target Species: Haddock | Pollock | Other Bottom Fish

---
12 HOUR MARATHON FISHING
Available in the Spring & Fall
Dock Departure 5:30AM | Dock Arrival 5:00PM / 5:30PM
Book Now
Target Species: Haddock | Pollock | Other Bottom Fish
---
HALF-DAY FISHING
Morning Dock Departure 8:30AM | Dock Arrival 12:00PM
Book Now
Target Species: Mackerel
---
STRIPED BASS FISHING
Afternoon Departure 1:00PM | Dock Arrival 3:30PM
Daily
Evening Departure 5:00PM | Dock Arrival 7:30PM
Tuesday - Sunday
Book Now
---
BLUE FISHING
Blue fish
can
be targeted in our area anywhere between late August and September when they follow the bait fish up from the Cape. When the Blues are in we interchange some Half-Day and or Bass trips for some exciting Blue fishing when they're biting!
For more information on when these trips are running check our
fish reports
and
online booking
schedule for available Half Day and Bass Trips targeting Blues.
---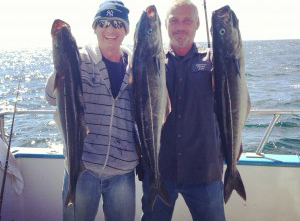 PRIVATE CHARTERS
Captain's Fishing Parties also uses their four boats to rent out for events and large groups looking for an exclusive trip on the open ocean. This is available for all kinds of fishing and is offered throughout our season. Cater the trip your self or leave it to us, our vessels include a full cash galley for breakfast, snacks, lunch and beverages. Please call us to discuss the group details and rates.
Note
| up to 60 fishing | 149 passenger
---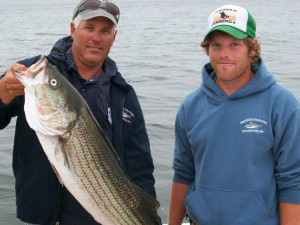 LOOKING FOR SOMETHING SMALLER?
1-6 PERSON CHARTERS
If you are looking for a smaller boat for a few friends to charter, Captain's Fishing Parties is more than happy to recommend
"Obsessed Charters"
to join Captain Pete or Captain Paul for some of the best striped bass fishing in the North Shore, located right off the CFP dock! So get ready to pull them in, and be sure to ask Pete about his biggest fish story!
Call
978 510 1081
or visit their
website
for details.
---

Terms & Conditions
Due to the fluxuation of fuel prices, rates may vary.
All Senior and Military discounts are honored with valid ID at check-in.
Captain's Fishing Parties has zero tolerance for Violence, Drugs, or Alcohol brought on board, Please and Thank You. Note | We have a Liquor License and provide our fishing trips with a selection of choice beers.
Boat per trip is decided on a day-to-day basis
We have the right to cancel at any time before the time of departure per trip.
New fishing regulations are published May 1st of each season.
Gulf of Maine Fishing Regulations 20-21
---
Cancellation Policy
Captain's Fishing Parties has the right to cancel for any reason, at any time. Each party will have the opportunity to either rebook or receive a full refund once informed of said cancellation.
Public Online Reservations may be cancled, and fully refunded, up to 72hrs prior from the date reserved. Ten dollar rebooking fee per passenger.